Leszek Kułakowski Project - Komeda Variations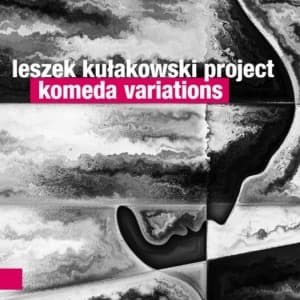 Komeda Variations is a special album. We give You Komeda, the spirit of Stańko, and Kułakowski, the great pianist, master of truly creative arrangements Komeda: Kulakowski's idol also beacuse of that "datachment", but mainly beacuse of his lyrical music drawing from native folklore and speaking with an emotional voice. The premiere performance (2001) of Komeda's film musical germs were written by none other than Leszek Kułakowski. Tomasz Stańko was the solist back then. "I was sitting nervously in the front seat of the church, completely on edge. The concert was phenomenal. Stańko, as always, surpassed himself ans added many new qualites to Komeda's music and my arrangements" - recalls Kulakowski. He returned to the project almost twenty years later, makinng minor changes to the score and adding an improvising jazz quartet.The result; a concert for 25th Komeda Jazz Festival in Słupsk (2019). So as not to lose any Stańko's interpretation he invited as many as three great trumpeters fluent in precisely this music idiom: Piotr Wojtasik, Tomasz Dąbrowski and Christoph Titz. The excellent symphony orchestra Sinfonia Baltica was conducted by Radosław Droń. The symphony orchestra does not provide a pretty background: on the contarary, they angage in dialoque with the fiery jazz quartet, initiating and co-creating the work. As far the art of arrangement (as opposed to tuned transcription), it should be taught on tha example of precisely this composition. What you get is definitely some true Kułakowski content in music by Komeda. "In my rearranged variations-Kułakowski remarks- I did my best to preserve the spirit, essence and mood of Komeda's music, show symphony musicians color and technique, and also reinterpret Komeda in the language of my sensibility. The concert was a bridge across almost two decades, which means.... Komeda's music doesn't age, it's always young and attractive".
This is one of the most important jazz albums of recent years: a jewel in the crown of Leszek Kułakowski's achievements.